How To Host The Perfect Wine And Cheese Tasting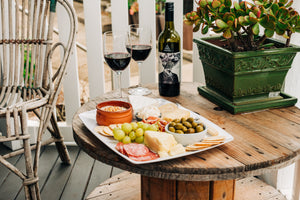 The perfect match
Cheese and wine. Are there two finer words? Whoever thought to pair the two together, is a god in our eyes. A wine tasting is not complete without a cheese wedge or two. They go together like bacon and eggs, or Joey and Chandler. One can't live without the other. They belong together.  
It has actually been studied and proven that the two are the perfect match. Cheese neutralises some of the more intense sensory experiences that come with tasting wine.  
So, if you're as big of a fan of cheese and wine tasting as we are, then you may be thinking of hosting your very own wine tasting, with all of the dairy-filled trimmings.
The perfect tasting 
A cheese and wine tasting. The type of event invitation that no one would ever avoid or fake plans for. It is the type of event that gives people the opportunity to eat, drink and sit around with good company. 
Hosting an at-home wine tasting is quite a stress-free way to impress your guests with minimal effort. As long as there is a table full of cheese wedges and various bottles of wine, then your guests are sure to be pleased. 
An easy way to check this box is by ordering a Pretty Green hamper! By purchasing hampers, you are able to gather an assortment of grazing nibbles and wine varieties to use for the wine tasting. Foods like olives, nuts, crackers, and quince can really help a wine pairing. It creates a whole experience, rather than just slicing up a cheese wheel and pouring a couple of glasses.  
Do you need a centre-piece for the table? We have just the right thing. The Winestain's Cheeseboard Platter, it's handcrafted and just what you need to build up your wine tasting table.
The perfect pairing
One aspect that will require a little research and preparation is pairing the right cheese with the right wine. When it comes to pairing cheese and wine, it's all about balance. Think about weight and flavour.
Full-bodied wine
The heavier or full-bodied wines should be paired with strong, sharp cheeses. Try a nice Shiraz or Merlot, with a sharp Gouda.
Medium-bodied wine
This wine variety is best appreciated with hard cheeses. Perhaps, a block of cheddar to pair with a Chardonnay or a manchego with a Shiraz-Cabernet blend.
Fruity red wine
This light type of wine is always complimented when paired with soft and spreadable cheeses. A wild-fermented Shiraz will do quite nicely. 
White wine
A crisp white wine, like a Vermentino, is best matched with a creamy goats cheese. You can also pair this cheese with a Rosé!
Other liquor 
For those who aren't the biggest fans of wine, but are begging to be involved, there is an alternative option for their tasting experience. A gorgonzola and gin tasting could be right up their alley. 
The perfect line up
With a little knowledge up your sleeve now, you should be fully equipped to order some hampers and prepare the house for your cheese and wine tasting night. Here are some of our best hampers that will kill two birds with one stone; wine and nibbles!
The

Picture Perfect Picnic

hamper: This is a great option if you have chosen to host your tasting outside. It includes a

picnic wine stake

for two. You can also add a few more at the checkout to serve the right number of guests.
The

Bees Knees

hamper: A bundle of sweet nibbles to complete any grazing table. Try drizzling some of

Malfroy's Gold Honey

over the sharp cheese wedges, trust us!
The

That's Gin-tastic

hamper: Perfect for that guest who isn't a wine fan, but is definitely an alcohol and cheese fan. 
The

Sweet Escape

hamper: These fine goodies are a great addition to your table and just the sweet ending to the wine tasting portion of the evening that you'll be craving.
Keep in mind that you can include an assortment of add-ons at the checkout! Some suitable choices might be the Blackberry Shiraz Jam and some Rosemary and Black Pepper Crackers, or load up on some extra bottles! You don't want to leave your guests' glasses empty!
Ready to host your very own cheese and wine tasting? Check out Pretty Green's complete range of food and wine hampers here.