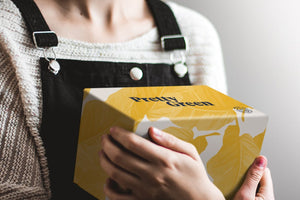 Pretty Green
GIVE A GIFT HAMPER THAT THEY'LL ACTUALLY REMEMBER.
Because our gift hampers feature one-of-a-kind, delicious and wholesome Australian produce made locally, they don't get tossed aside. Instead, this memorable gift brings oodles of smiles and memorable flavours.
Thoroughly and thoughtfully curating a one of a kind, small-batch and delicious gift hamper for any occasion is our speciality. And it's what we do well. 
Giving the perfect gift hamper is hard when there are so many options available. But it's what's in your hamper that really sets your gift apart from the rest. Pretty Green is based on the ethos of supporting small businesses, farmers and families across Australia. Which means that often, the gift hamper you choose will be packed with products that are made in small batches, are limited edition and full of goodies that your recipient can't get anywhere else. 
Whether you have a small or large budget, you're vegan or gluten free, you want to support women-led businesses or companies that give back, we provide you with a selection of sustainable gift hampers that suit every personality and occasion. We can even work together to build a personalised corporate gift that aligns closely with your brand values and designs. All delivered to your door (or desk) anywhere in Australia. Carbon offset of course!
Depending on who you're buying a gift for, you can shop for the best gift hamper in a number of ways:
Select your gift hamper from our thoughtfully curated range
When it comes to selecting a gift hamper for a last minute gift or you're not sure what they'd like, we've done the hard work for you. You just need to let us know who you're shopping for, what the occasion is and if there are any dietary requirements to think about. We'll then let you know which gift hamper we think would be a perfect and delicious fit for them. Whether it's a gift hamper for you Mum on Mother's Day, a gift hamper for you husband on your anniversary or a Christmas gift hamper for your client. We can suggest the best small-batch gift box that will align with your budget, personality and occasion. And once you add it to your cart, you can even personalise your gift with a note which we'll then handwrite on one of our beautiful, free gift cards. 
Shop gifts for women, find the best Father's Day gift for Dad, discover a range of care packages for friends, celebrate with a baby hamper for Mum to be or surprise your family with a gourmet Christmas hamper. Every one of our locally sourced products is handmade right here in Australia, which means you're supporting the small businesses who need your support. In return, you get to devour delicious small-batch artisan foods that ooze a little more love than your usual gift hampers. 
Shop By…
At Pretty Green, we're proud of what we stand for. Each gift hamper we curate and product we stock is made by a local small-batch business, farmer or family in Australia. Each product that makes up the gift hamper you choose is handcrafted with love to create a delicious, nourishing product made with the freshest, locally sourced ingredients. 
If you're as passionate as us about shopping consciously and sustainably, we've made it easy. You can now shop by ethos. Whether you're passionate about buying from women-led businesses, businesses that pride themselves on sustainability or businesses that give back to the community, you can choose a gift hamper that lets you cast your vote for the world you want to live in. From sustainable gift hampers that ensure zero waste to handmade gift hampers made by a one-woman show, you can show your support by shopping our site by ethos. 
Want to buy a personalised gift hamper? Create your own gift with our Custom Gift Builder
Not sold on any of our already curated gifts? Or have a friend who loves both coffee and hot sauce, wine and baking or cocktails and organic honey?
Our customisable Gift Builder platform allows you to create your very own gift hamper that is personalised right down to the last crumb. By choosing each small-batch product that goes into your gift hamper, you can create a one of a kind experience for your gift recipient that'll keep them raving for days and let's them know how special they really are. It might even score you a brownie point or two. Or maybe an actual brownie if you're lucky. 
So for Mother's Day, Christmas, Birthday's, Baby Showers and Celebrations, consider supporting small-batch Australian producers who (literally) do a happy dance every time you buy their yummy products. From chocolate to wine and everything in between and delivered to their doorstep with love.