BUSINESS
CORPORATE GIFTING. BUT SIMPLE.
We know business. Long hours, late nights and even weekends. People are at the heart of our businesses and therefore we believe they should be celebrated at every possible occasion, to say thank you to those who shape our workplaces day in day out.

ABOUT
TAKING THE STRESS OUT OF THE OPERATION
Corporate gifting is a fine art that tests organisation, time management and tough decision making. Something office life claims to teach you well.
You want your business associates to go the extra mile for you, so why don't you go the extra mile for them? We can help you create personalised gifts that'll make both your clients and employees do a double take. With a Pretty Green account and seamless dashboard, you can send a personalised high quality, small-batch gifts without lifting a finger.
Sign Me Up
Simply sign up and enter all the important dates you have coming up along with the type of gift you would like to send to each person. We will then deliver a beautifully packaged gift bursting with fresh, small batch Australian produce right to their doorstep.. or desk.
Whether you're buying for a client's birthday, an office celebration or an employees milestone, the most important thing is that your gift is memorable. We promise there'll be no more average bottles of wine nor generic flowers and chocolates. Here, we do things differently, and by doing so, create an extra special package from regional produce that you can't get anywhere else.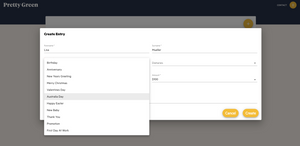 Better yet, we've got your back when it comes to restocking the kitchen or organising the all important meeting room snacks. Whether it's keeping the biscuit tin full, the coffee brewing or impressing a client in a meeting, we're here to keep your tummies full and your work ethic strong.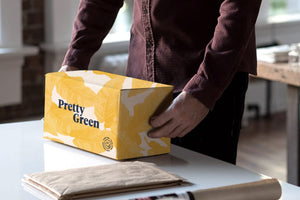 If you're still clueless as to what gift someone in your corporate world would love to receive in a pretty cool package like ours, have a look at our Diary for ideas and insights into the type of delicious gifts we send.
Diary
PRETTY GREEN
GOING CORPORATE?
Excited to organise gifts for your clients, employees or business partners? We'd love to be a part of it. Sign up now to see what all the fuss is about.
Sign Up Now