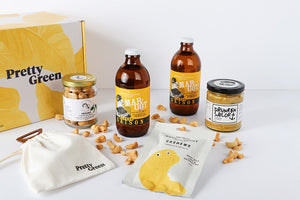 Pretty Green
DAMN GOOD GIFTS FOR GUYS WHO HAVE EVERYTHING.
Oh, and know really great flavours when they taste them. Whether it's a habanero hot sauce selection for dad, a local craft beer box for your boyfriend or a freshly roasted coffee collection for your boss. Gift giving never felt so good. 
It's a well known fact that men are impossible to buy for. We've tackled the challenge for you and curated gifts that'll make it easy to buy a hamper for him. Be it for Christmas, his birthday, an anniversary or Father's Day. 
We've got gifts for a craft beer lover, gifts for an adventure junkie, gifts for coffee drinkers and hampers for guys who love to cook. The list of foodie gifts for him is endless! We've got the perfect sustainable, small-batch hamper for him that supports local businesses in Australia. Ready to ship straight to his door, whatever the occasion. 
Our hampers for him are curated from the best foodie businesses around. We have Drunken Sailor relishes for men who love a booze infused condiment on their steak sandwich. Or craft beers brewed in Tasmania. How about an alcohol free beer for Dad if he's trying to steer towards a healthy lifestyle? Would he dig fresh coffee roasted on the Northern Beaches of Sydney paired with a handmade keep cup and artisan chocolate? Buying a hamper for him at Pretty Green is beyond easy and there's no doubt he'll be stoked with his one of a kind gift. The answer to 'what to get the man who has everything?' has finally been answered! You can get a gift for your Dad, boss, boyfriend AND brother all in one place. 
Our gift hampers for him are created in a range of price levels. So whether you want to splash out on a luxury whisky gift for Dad or it's a new boyfriend's birthday and you'd rather gift him something less expensive like a hot sauce selection, coffee box or beer gift, we've curated the best hamper for him and his personal tastes. Ready to add to cart, write a personalised note and be delivered quickly to his doorstep Australia-wide. 
From the perfect Father's Day hamper for him when you can't spend the day together to a birthday present for your brother who lives on the other side of the country, a Pretty Green gift can be given when together or apart. We can deliver his hamper anywhere - from Perth to Sydney and everywhere in between. Giving them a slice of what they love, wherever they may be celebrating. 
We often see the question; what to put in a hamper for him? If you'd like to go the extra mile to personalise your hamper for him, our gift builder is the perfect solution. 
Simply narrow down your search - customise by ethos, product, colour or occasion - and choose the small-batch Australian produce that suits him the best. Perhaps he likes to try the newest Australian wines along with drowning all of his meals in the finest fermented hot sauce around. Or maybe he loves to cook - choose from our selection of cold-pressed olive oils, handmade pasta, Australian truffle salt and gourmet sauces. Curating and buying a hamper for him just got easy. Period. 
Not sure what to get the man in your life? Have a peek at our gift guide for him. A selection of thoughtfully curated gift hampers for any type of man - from Grandad to Boyfriend, or even your boss.