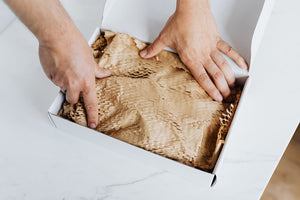 Pretty Green
CORPORATE GIFT HAMPERS THAT TRULY ALIGN TO YOUR BRAND.
It's time to up your corporate gifting game. Create personalised, brand aligning and most importantly delicious hampers that will leave your business pals raving for days.
Working in the corporate world means giving (and hopefully receiving) corporate hampers every once in a while. When birthdays, Christmas and work anniversaries come knocking, gourmet corporate hampers are the best way to say congratulations to the whole team, whatever their taste.
All too often, luxury corporate hampers contain the same old products. But do they really suit your business needs and values?
We help you to make your business partners, customers and employees happy and delighted. Period. We make sure we bring the big guns to our corporate hampers - aka the finest Australian foodie goodness. Handmade right here in Australia by people who love what they do. So if you're trying to be the best in the biz when it comes to making long term sustainable changes and actions, our Pretty Green corporate hampers are calling your name. Can you hear them?
In order to curate our corporate hampers, we nurture relationships with local producers and small businesses across Australia. Our ethos lies in supporting the production of handcrafted food, drink and products in order to cast a vote for a stronger and more self sufficient Australia. From delicious cocktails from the best bars in Sydney to biodynamic to organic honey to handcrafted cheese boards made from repurposed wine barrels and everything in between. Your corporate hamper selection is your oyster! We then thoughtfully match together these fresh, high quality products that compliment both each other and the values behind your gift. At Pretty Green, we do things differently, and by doing so, create extra special business gifts, delights and kitchen produce that you can't get anywhere else. More often than not, these are one of a kind, award winning products not even your recipient can buy for themselves, which is why they make the best corporate hampers for your clients.
We'd like to think we're dab hands in the business game, which means that we know all too well that there's never enough hours in the day. Not least to ensure those surprise and delight gifts are thought out, personalised and delivered. On time, no less. Behind the scenes, we've developed the perfect professional business gifting solution so you can spend more time on the work that matters, whilst we handle your corporate hampers.
How to make ordering corporate hampers easy? Our GMS (Gift Management System) is a custom built dashboard that allows you to send a gift well ahead of time in just a few simple clicks and makes ordering corporate gifts seamless. Spend just a short amount of time planning the week, month or even year ahead by entering all of the occasions, people, special requirements and chosen gifts into your custom calendar. You can then set and forget all of these gift giving occasions whilst we take over and do the hard yards for you.
We will deliver your chosen gifts Australia wide on the date you chose, along with a personalised handwritten note. Straight to their desk without the need for you to remember each and every surprise and delight you have up your sleeve. Through our Gift Management System, you will never miss a birthday, anniversary, onboard or surprise and delight opportunity ever again.
And it doesn't stop there. When it comes to scaling up and sending the best corporate hampers as Christmas gifts to every employee and client or gifting goodie bags to everyone at an important event, together we can curate a gift that is personalised to your business and its values. Both when it comes to the look and feel and the meaning behind your gift. Along with our partner agency, we can design personalised packaging, write the copy on your handwritten cards and source it all for you, so you can get on with your job whilst we get on with ours.
With our options for businesses, together we can take the stress out of the operation and help you to create utterly personal gifts that make your clients and employees do a double take. All without lifting a finger.