Say Thank You With Our Small-Batch Hampers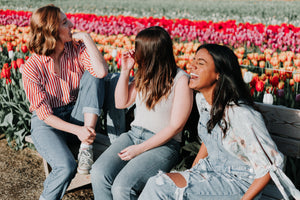 Our friends and family are the biggest supporters in our lives, so it's really important that we make them feel loved and appreciated by us. Here at Pretty Green, we do the hard part of curating the perfect meaningful hamper filled with all local, small-batch, sustainable products from Aussie businesses that we truly believe in. Send your loved ones a gourmet thank you hamper to make their day that little bit brighter.
This gift is a great hamper to say thank you to the wine-lovers in your life. Whether they are always a shoulder to cry on, or you just want to show them how much you value having them in your life, this hamper has everything. A bottle of Pink Pet Nat from Hunter Valley wine producer, Dirt Candy Wine always goes down a treat, plus paired with some delicious snacks… Picture Perfect! This hamper includes:
For the coffee connoisseur, send them one of these gift hampers to say thank you for always being there. Even if you aren't there to have a coffee together, they will appreciate the thoughtfulness, and will think of you every time they drink the gorgeous Honey Pot Blend coffee from Sydney's Barrel One. This gift includes:
We all know those people who just love a sneaky G & T. Send that person this hamper to say thank you for being you and they will love mixing up the traditional G & T. From Tasmanian distillery, Grandvewe Hartshorn Distillery there is a bottle of Sheep Whey Gin along with a couple of Strangelove's mixers to go with it. This hamper includes:
If your mate is a chiller, or just loves to unwind with a delicious tea in the bath, this is the ideal hamper to say thank you. Maybe they helped you out recently, or maybe they've just been a consistent in your life when everything seems so chaotic. Either way, they've always got your back and it's time to give them back some positivity with this gorgeous hamper. It includes:
This hamper is for your fierce friends – they're fierce and fiery, just like this hamper! It's the perfect hamper to say thank you for always telling me how it is – true friendship is also holding your mates accountable and being real with them, so it's important to show these friends that you appreciate them too! This gift includes:
There are many reasons to give someone a thank you hamper, and these are just a few of our favourite reasons and a few of our favourite gifts. Have a look at the entire range from Pretty Green and send your loved ones a gift hamper to say thank you, whatever the reason may be.