Neuroscience of Giving: Sending A Gift Basket Delivery Can Give You The Same High As Being In Love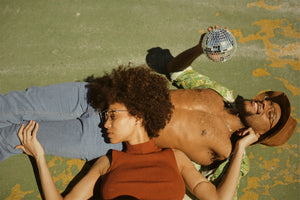 The Gift Of Love 
Studies have shown that receiving a gift basket delivery can give you the same emotion and feeling as being in love. Oxytocin, also known as the 'love hormone' is produced by people when they have feelings of love and happiness. It also has stress and anxiety reducing effects. Research suggests that receiving gifts can really create that feeling of love, as the love chemical Oxytocin is released when you receive a really cute and thoughtful gift from a loved one. 
Here at Pretty Green, we think that's pretty amazing and we're all about giving the gift of love. Sending one of our gift basket deliveries is an unreal way to show your appreciation to a friend, family member, partner or work mate. Sit back and watch as your recipient experiences a significant increase in Oxytocin as they open one of Pretty Green's hectic hampers!
We've put together some of the benefits of giving a really good gift to a loved one and how it will boost your mood and make the recipient feel nothing but love. 
Strengthen That Bond
Sending a thoughtful gift basket delivery can strengthen your bond with a loved one. The high you get from giving an amazing gift and the love they feel from receiving it will contribute to an unbreakable bond no doubt. Our 'Best Mates Forever' hamper is the perfect gift to send to your bestie. If you haven't caught up in a while and are looking to treat them to something special, then consider sending this hamper to them for the next big occasion. 
Everyone knows your best mates count as soul mates too, and the special bond that you share is wonderful. Our hamper is packed full with goodies that will make for a very memorable gift. We've added Hey Tiger's 'Best Mates' Caramelised Popcorn and Coconut Chocolate. This choccie has been specifically designed for best mates (it's literally in the name) and the flavour combination is a match made in heaven. 
We've also included a bottle of Dirty Candy's 'Wild One' Shiraz-Cab blend. It's a smooth drop that can be enjoyed at your fav place, say by the beach, or in the park? We've added in Winstains' 'Picnic Stake For Two', so you and your pal can place your glasses of wine in the stake and sit back and watch the sunset.
Forget About Giving Money, How About Gifting Happiness and Positivity 
Giving money probably won't give you the same pleasure as giving a gift that is meaningful. It'll leave your recipient with happy and positive vibes, which is exactly what we're all about. Put your money towards something sincere for the next special occasion and consider giving one of our fabulous gift basket deliveries and truly make a loved one's day. 
If you're looking to spoil your partner, sibling, parent, or mate, then our 'Get Barreled' hamper is the one for you. We all know that going for a coffee is the ultimate romantic gesture and we've put together a bunch of goodies in our 'Get Barreled' hamper to ensure that your recipient enjoys a delicious brekkie in bed for any special occasion. 
Use our gift basket delivery service, that we've made super simple for you to use, and have this hamper delivered on their doorstep on a special day. Oxytocin levels will be high, trust us. We've added in Barrel One's 'Honey Pot Coffee Beans', because coffee before anything - obviously. Alfie's 'Crunchy Peanut Butter' is a yummy treat that will make the start to anyone's morning super sweet.
Create Some Long Lasting Positive Memories
If you receive a sentimental or unique gift, you'll always remember it. We reckon that sending one of Pretty Green's gift baskets is a perfect present to give and no doubt your recipient will remember that overwhelmingly happy feeling forever. 
Our 'You Are Gin-Credible' is an unreal gift basket that will complement any special occasion! Looking to treat your family member to a gift that isn't just your average, standard present? This is the hamper for you. We've chucked in Grandvewe Hartshorn Distillery's 'Sheep Whey Gin'. This gin is distilled with rare Australian botanicals and is unlike any other regular gin. We've also added 4 of Strangelove's 'Dirty Tonic' - the most refreshing mixer. To munch on whilst enjoying your G&T's, we've included Drunken Sailor Canning Co's 'Beetroot & Gin Relish', that you can have on your favourite cracker. Sounds perfect to us. 
So we're pretty sure that we've made it clear that sending one of
Pretty Green
's gift basket deliveries will give you and your recipient the same high as being in love. An instant rush of dopamine! So why not make yourself feel good and show your partner, sibling, parent, bestie, whoever, just how much you love and appreciate them by giving them one of our
gourmet hampers
! Science says you should! And, so do we.