Here's Why A Wine Hamper Is The Way To The Heart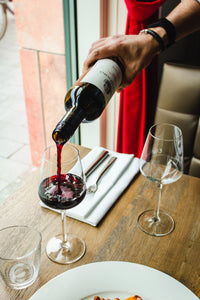 A wine hamper is one of the best gifts you can get someone because not only do they get a bottle of delicious wine, but they also get a whole bunch of goodies to accompany it! Here at Pretty Green, we have a wine hamper for every type of person and every occasion. Whether you're buying for someone who prefers to keep things lowkey and chill with a glass of wine, or someone who loves to get rowdy, we've got you sorted. We've created a list of our favourite wine hampers that will win all your loved ones over.
This wine hamper is for the people in your life who really appreciate genuine connections and love to spend time together making memories. With a Tuscan Risotto to cook by Melbourne's From Basque With Love to start the chats, pour a glass of 'The Pink Panther' Pink Pet Nat by Hunter Valley wine producer, Dirt Candy Wine to keep the vibes flowing. This hamper includes:
For the social butterflies, this wine hamper will provide them with everything they need to celebrate big with their people around them! A bottle of 'The Fizz' by Dirt Candy Wine will complement their bubbly personality and set the tone, along with some yummy snacks including a block of 'Best Mates' chocolate by premium chocolate maker and social enterprise, Hey Tiger, because they're everyone's best mate! This gift includes:
If you love to chill out over a glass of wine and some snacks with your bestie, this is the wine hamper you need. Featuring a bottle of 'The Favourite' by Dirt Candy Wine you'll really win your way to being the favourite friend. Along with some gourmet canapes, this is a hamper not to be missed. It includes:
This wine hamper is ideal for that special someone, whether you want to make more of an effort with your partner, or set the mood with a new interest, this hamper is for you! Starting with a glass or two of Dirt Candy's 'The Wet Weekend' Shiraz, you'll be getting cosy in no time, that's why we've included some vegan condoms by Jonny as well! This hamper includes:
For your solo mate that loves to unwind on their own, look no further than this wine hamper! With a bottle of Dirt Candy's Shiraz Cabernet blend, 'The Wild One', some delightful kalamata olives from the McLaren Vale region of SA and some guilt-free cookies, they'll be vibing on their own for sure! This includes:
If you want to really impress the people in your life, send them a Pretty Green wine hamper! We have something for everyone, so have a look at our full range of wine hampers and choose the right one for your loved ones today.