Here's Our Favourite Wine Hampers From Australia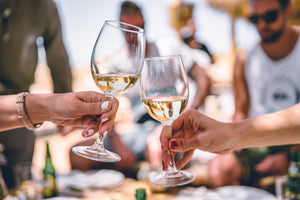 Here at Pretty Green, we have the best wine hampers going that are full of all Australian products. Our wine producer, Dirt Candy Wine, is based in the Hunter Valley and creates small-batch, artisan wines that are all unique and made with love. Not to mention all the other goodies that we've carefully curated into the wine hampers are from all over Australia and come from companies that we truly believe in. These are some of our favourite wine hampers from Australia!
The main feature of this amazing wine hamper is the bottle of 'The Prodigy' by wine producer Dirt Candy Wine, which is based in Australia's Hunter Valley. 'The Prodigy' is a Semillon that has lemongrass aromas with hints of lemon zest and fresh acidity. It goes well with the 'Hello Officer' chocolate from Hey Tiger as it balances out the smoky flavours. This hamper includes:
This wine hamper is a great little taste of Australia, the kalamata olives come from Port Willunga Fine Foods in the McLaren Vale region of South Australia, the blackberry shiraz jam by Jam Lady Jam is from regional Victoria, and 'The Wild One' Shiraz Cabernet blend is from the Hunter Valley in NSW. 'The Wild One' is a medium bodied Shiraz Cabernet that has a distinct, elegant mocha nose and a long finish. This gift includes:
For a nice, simple wine hamper, look no further than the Au Natural. 'The Natural' is a Riesling from the slopes of Mount Canobolas in the cool wine region of Orange. It is delicate and crisp, which is very refreshing, and it goes well with the Tuscan Risotto by From Basque With Love. This hamper includes:
For a little bit of everything, this is the wine hamper for you! Featuring a bottle of 'The Fizz' Sparkling Semillon, which is a dry style wine also from the Orange wine region. It has fresh aromas of green apples and brioche with a delicate creaminess and crisp acidity. This wine hamper also comes with an array of snacks from local producers from all across Australia. It includes:
This wine hamper is perfect for exploring all the beautiful spots Australia has to offer. It comes with a picnic stake for two by Winestains, so you don't have to worry about getting your wine glass dirty! The wine in this hamper is a bottle of 'The Favourite' Vermentino by Dirt Candy Wine. It is a crisp, savoury white wine, with aromas of pear, a textural feel and flavours of citrus and green apple. This gift includes:
For the best wine hampers Australia has to offer, order yourself or your loved ones a wine hamper from Pretty Green! Check out our entire range and choose the perfect hamper for you.