Corporate Care Packages: Why Gifting Gourmet Food To Your Team Works Wonders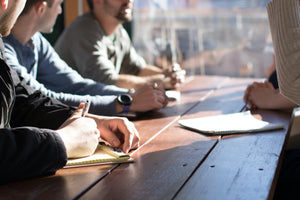 Corporate Care Packages 
Sending corporate care packages is the unique and modern way to say thanks to any client, employee or boss in today's world! It's super easy, efficient and thoughtful! Luckily for you, Pretty Green also believes in the importance of strengthening workplace relationships and boosting productivity through gifting one of our unique corporate gourmet food hampers. Check out some of our favourite hampers that we think will be the perfect option to send as a gift for the next occasion! Plus, sending one of our hampers is completely environmentally friendly - we use a carbon neutral delivery service! Our gifts are also wrapped in sustainable packaging and securely packed in a colourful biodegradable box - an added bonus! 
On The Rocks 
Have you got the best business partner and you feel like spoiling them for all their hard work? Our 'On The Rocks' gourmet food hamper is the one for you! Go beyond that standard gift voucher and give them something that is a whole lot more meaningful. Let's just say your friday arvo after work drinks will be very special with this package. We've chucked in three of Maybe Sammy's classic cocktails. All the favourites are there - vodka, gin and tequila. Literally something for everyone! These drinks are reinvented classics and have put a bit of a modern spin on our old favourite cocktails! To snack on, we've also included some of Wondaree's 'Roasted Macadamias'. They're 100% Australian owned and farmed and are the perfect salty accompaniment to your drinks. Port Willunga Fine Foods' 'Fleurieu Olives' are also in the package and will be a definite crowd pleaser. They're fruity flavour will definitely excite the staff room. 
Whisky Business
Sending clients a gift to say thankyou or congratulations can sometimes be difficult. You want to make sure that they feel valued and appreciated. Our 'Whisky Business' is the ultimate, classy gift that will surely impress any client! It's packed with some of our absolute favourites! Bar Rochford's 'Old Fashioned' is a premix drink that is smooth. Who can go past a classic old fasho? Also, as a little treat, we've added in Hey Tiger's 'Hello Officer' vegan dark chocolate. It's Whisky and Smoke flavour - need we say more. For something a bit extra, we've chucked in Drunken Sailor Canning Co's 'Whisky Piccalilli'. It's a yummy concoction of crunchy, pickled vegetables and can go on literally anything! 
Beecause Why Not?
It's important to create strong connections between employees and employers. It will boost productivity and everyone knows that a happy staff team and work environment is the key to success! Why not consider giving our 'Beecause Why Not' gourmet food hamper to your employee as a thank you gift for all of their hard work. It's an amazing self-care package that will definitely showcase your appreciation. Is your employee a coffee lover? Well, their staff room mug will be the envy of the workplace with the Clay By Tina's 'Small Ceramic White Crackle Glaze Cup'. We've also included Miellerie's 'Tea Tree Honey'. It's manuka honey, so it is rich in natural antibiotics, whilst tasting so sweet. Among the goodies is also T Totaler's 'Organic Relax Tea Jar' - the ultimate relaxing tea that will help your employee wind down after a busy work week!
Let's Catch Up
After a long week of working, how about heading to you or your work besties place and treating yourselves to an unreal gourmet food hamper! It's true that we spend a lot of time with our work colleagues, so why not celebrate the friendship and all of the hard work with a package that you can both enjoy! Our 'Let's Catch Up' is designed for friends. It'll definitely help you and your work mate unpack the week that was. We've included Dirty Candy's 'Pink Panther', a spritzy, fruity bottle of wine that is made with zero additives or filtering! For a sweet snack, we've added in Hey Tiger's 'Best Mates' chocolate that is coconut and caramelised popcorn flavour. It's literally designed for best friends with that amazing flavour combination! 
So whether you're looking to treat your staff, impress your client or hang out with your work mate, Pretty Green has a gourmet food hamper for anyone! Step up your game next time and consider gifting one of our unique packages - you won't regret it!