How Gift Hampers In Adelaide Can Improve Motivation And Company Morale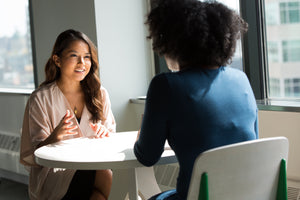 Whether it's to brighten someone's day, thank your staff for all their hard work or strengthen your business relationships with clients, our gift hampers in Adelaide are the solution to all your corporate gifting needs. Have you noticed that the vibe has been a little off lately in your zoom meetings? Does your team look tired and uninspired after working from home for so long? Or perhaps your tossing and turning over how to make your clients feel appreciated when you can't meet them in person? 
Well, thankfully for you there's no need to look any further. Pretty Green gift hampers in Adelaide are filled to the brim with thoughtful, handmade and locally sourced goodies that will leave a lasting impression on your employees and clients. 
What are the benefits of our gift hampers in Adelaide? 
At Pretty Green, we reckon corporate gifting is a pretty smart business strategy. Why, you ask? Well, according to our maths if you add fine food and fine friends together, it can only equal fine fun. And when you've got a happy team, it can only lead to improved productivity and morale. Yes you want to work hard, but it's important to play hard too from time to time because that's what keeps your employees coming back day in and day out. 
We're not just talking about the ping pong tables or Friday after work drinks at your local happy hour spot. Those things are nice, don't get us wrong - we love more than our fair share of both. But what we're trying to say is that you should never underestimate the power of a surprise and delight, especially when it comes to our gift baskets in Adelaide. It's important to make sure that each member of your staff and clients feel appreciated and valued. It may be a small gesture, but personalisation and recognition through the art of corporate gifting can go a long way for your business. 
From increasing motivation to improving staff loyalty and retention to simply just showing that you care, the benefits of our gift hampers in Adelaide are almost endless. We've searched far and wide for only the yummiest of gourmet products made from the finest of ingredients. Take your pick from mouth watering olives grown in the McLaren Vale region, exotic and tantalising jams handcrafted in Yarra Valley, decadent spreads like salted caramel and cinnamon spiced created in Maroubra...the list goes on. We've gone that extra mile for you in hand picking delicious, next level products handcrafted by Australian families, so you can go that extra mile for your team and clients. 
When should you send these gift hampers in Adelaide? 
At Pretty Green, we believe people should be celebrated at every possible occasion. Has a new client joined the team and you're wondering how to send the perfect welcome that speaks volumes about your brand values? Well, all of our gift boxes Adelaide can be customised to represent your company's ethos. 
We love getting creative, so we're more than happy to design biodegradable gift boxes with your logo and hand write personalised messages on cards with your business colours and motto. We can even carefully curate a range of gift hampers Adelaide for you to select from, with each product being specifically aligned to your corporate values. Is your company all about giving back? Well we've got scrumptious, small batch chocolates by Hey Tiger. A social enterprise that donates proceeds to The Hunger Project in Ghana. They're paired perfectly with a bottle of Vermentino or an organic fine Shiraz. If you're looking for a way to unite everyone with your company culture from afar, this is the way to do it.
Or perhaps you're after more of a breakfast in bed care package to remind your staff and clients to look after themselves and reach out if they need anything. Mental health check ins are an essential tool in sparking connection, it's important to make certain that your team is in a good headspace and feel supported.  They say breakfast is the most important meal of the day, so why not make sure your team gets the best start with our gift hampers Adelaide? Our award winning homemade honey berry granola, rhubarb and cinnamon jam, pure yellow box honey and herbal tea combos simply just ooze delightful goodness. 
And here's why you should use our Gift Management System so that you never forget important dates or occasions to send our gift hampers in Adelaide!
Are you prone to forgetting birthdays and work anniversaries? Do you always leave Christmas gift hampers in Adelaide to the last minute? Do you wish someone can just do it all for you, but makes sure that each person's experience is special and on brand? Luckily for you, Pretty Green's got you covered. 
Our seamless dashboard system is your new best friend. Think of it as an online calendar that does all the hard work for you without you really having to lift a finger. All you've got to do is sign up and fill in the details. You can put in the details of multiple clients and employees then determine how often you want to send them a gift baskets Adelaide. Select the occasions such as milestone celebrations and EOFYs, the budget and even the dietary requirements. After that, you leave the rest to us. We'll deliver to anywhere within Australia, from Adelaide to Perth to Tasmania and every remote town in-between. 
We use a 100% carbon neutral delivery service and biodegradable packaging. Many of our producers practice sustainable farming, zero waste initiatives and even provide repurposing ideas for their products once it's used! So you can feel twice as good now knowing you're making your team's day but also reducing your carbon footprint and supporting local producers who deserve some extra loving. 
If you really want to talk about improving motivation, setting up an employee rewards or employee of the month system at Pretty Green is a geeeenius way to boost productivity. Sometimes we need an extra incentive amongst the daily grind and there's nothing wrong with a bit of healthy competition right? Better yet, when there's a pack of wholesome goodies to score at the end of it! Whether it becomes a cheeky lunch break snack or a home cooked dinner with the family, we bet they'll be feeling refreshed and motivated afterwards. In fact, we reckon their taste buds will be dancing long after it's finished. So you can expect your gift hampers Adelaide to be all the buzz round the office!